DOWNLOAD YOUR WHITE PAPER TODAY:
Smart Start: 4 Headline Writing Tips for More Clickable Content
Give your content its best chance at reaching your target audience by reading through our quick guide to writing headlines.
Headlines, no matter if it's for a blog post, social media content, email marketing campaigns, or press releases matter. In fact, a headline is much like a first impression in that you only get one chance to capture your target audience's attention. In this Smart Start guide, we share easy-to-implement ideas to help you write more compelling headlines for your content.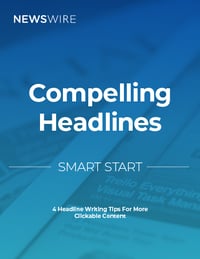 Smart Start: 4 Headline Writing Tips for More Clickable Content
Understand the importance of headlines
How to write SEO headlines with keywords
Learn actionable tips to write better headlines